M.S. in Special Education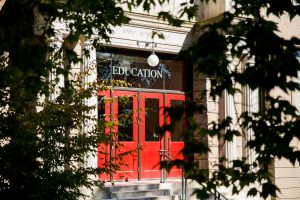 Do you have your bachelor's degree? Interested in being a leader, collaborating with others, and improving the quality of life for individuals with disabilities and their families?
The special education master's program is the academic home to many students who enjoy working with children and youth, especially children and youth with disabilities. Special education master's graduates enter a high-need field with an almost 100% job placement rate after graduation. Employment opportunities are available all across the country.
This is an accordion element with a series of buttons that open and close related content panels.
Funding Opportunities
Gain experience in a rural classroom setting while obtaining your master's degree.
Accelerated program (14 months – summer, fall, spring, summer)
Placement in one of 24 schools in rural partner districts
Stipend (can be used to pay for tuition and fees)
Support after graduation
Gain real world interdisciplinary experience as a member of Project INCLUDE, a collaboration between Special Education and Speech Language Pathology.
Funding package total of $29,500 over the course of the program*
Specialized coursework, activities, and field placements with a focus on augmentative and alternative communication (AAC) and assistive technology for children and youth
*For each semester of funding that students receive, one year of service as a special education teacher is required after graduation
Response-to-Intervention (RTI) and School Teams
This training grant, funded by the Office of Special Education Programs, will improve the quality and supply of personnel who serve children with disabilities by training master's-level special educators and school psychology graduate students in skills needed to perform effectively in problem solving teams involved in response-to-intervention (RTI).
Funding package includes:

 

$12,067

 per year for two years for in-state residents;

 $25,558

 per year for two years for out-of-state residents.

For each semester of funding that students receive, one year of service as a special educator is required after graduation.

Eight special education masters students will be funded by this training grant, along with eight school psychology students.

The grant will provide funding on a rolling basis from AY 2019-20 through 2022-2023.
Student Loan Forgiveness
Federal Loan Forgiveness: All students in the teacher certification track of the Master of Science in Special Education program may be eligible for loan forgiveness as a teacher. To learn more about loan forgiveness or cancellation, please check the Loan Forgiveness page on the Federal Student Aid website.
Teacher Pledge: All students in the teacher certification track of the Master of Science in Special Education program are eligible for the Teacher Pledge Program. Pledge to work at a Wisconsin pre-kindergarten through 12th-grade school for three to four years after graduation. The School of Education pledges to pay the equivalent of in-state tuition and fees, testing and licensing costs. Learn more about the Teacher Pledge. 
Eligibility
Previously earned bachelor's degree (can be unrelated to education)
Minimum of 3.0 GPA
Seeking initial special education teaching license
Interested in changing the lives of and empowering those around them
Application Process
Now accepting applications for Summer 2020
To apply you will need:

1 statement of purpose indicating your reasons for pursuing special education certification

Additionally, state your interest in any of the funding options (above)

2 letters of recommendation
1 current resume
Unofficial transcripts from colleges/universities attended

Apply for the "Special Education MS – Teacher Certification" program via Graduate School Application Portal

Choose which term you would like to start
Application fee required
Deadline to Apply
Currently accepting fall and summer applicants.
Deadline to apply for summer 2020 is May 15, 2020.
Coursework
Courses are offered on campus, Monday-Friday, during the day and evening. Information regarding program requirements, course descriptions, and graduation requirements can be found in The Guide.
Additional coursework may be required if accepted into one of the funded programs.
Program Length
The master's in special education with teacher certification can be completed in as little as 14 months, including summer coursework.
Other Paths to Becoming a Special Education Teacher
Be eligible to apply for a Wisconsin cross-categorical Special Education license at the Middle Childhood through Adolescence level (ages 6-21)
Be eligible to apply for both Elementary Education and Special Education licenses at the Middle Childhood–Early Adolescence levels (approximately ages 6 through 12–13)